How to Filter Water for Irrigation |Aqua Hub Kenya has Quality screen filters at a favorable price rates.
Our Screen water filters are available at sizes of 25 mm, 32 mm, 50 mm and 60 mm.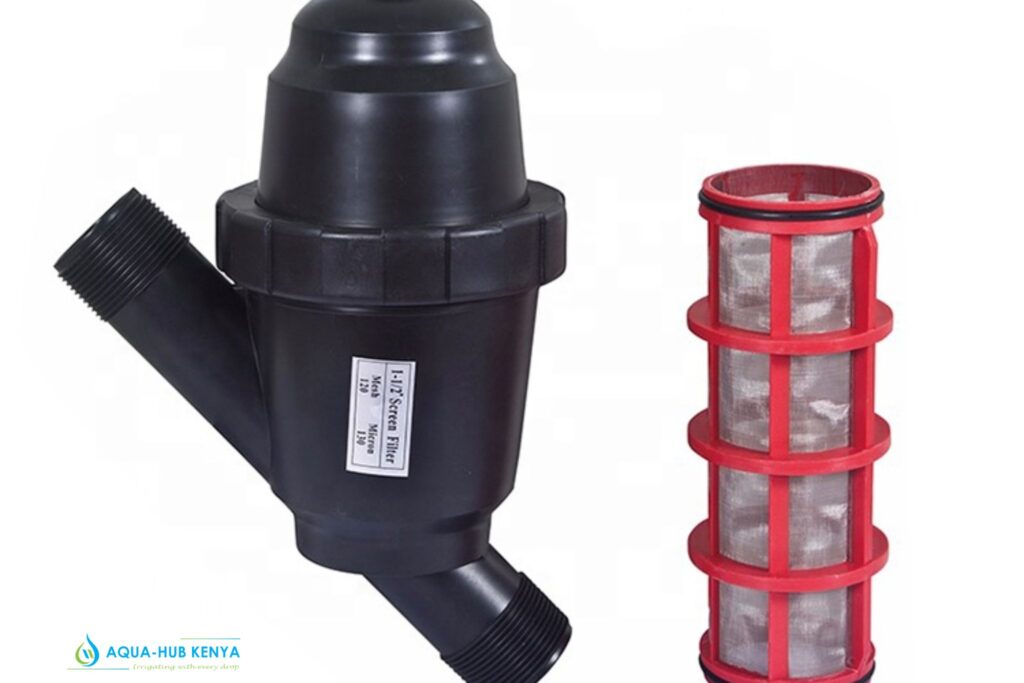 How to filter irrigation water (Steps)
Choose a water filter suitable for your irrigation system or project. Screen filters are the most reliable and cheap for smaller farms while disc filters are good for large projects.
Install the water filter on your irrigation system
Enhance regular maintenance of your filters by cleaning and removing particles.
In Which Sections are Water Filters Installed?
Water filters are normally fitted or installed near the primary source of irrigation water such as tanks or dams and rivers.
Mostly suitable for irrigation water sources with dirty water, or swampy water with some impurities in it.
Which filter should I choose for my irrigation System?
Choosing the best filter for your irrigation needs requires consideration of:
Source of your irrigation water – For dirty water sources, install water filters near the source to avoid clogging of mainline and sub-mainline pipes.
The pressure of your irrigation systems – Low pressure irrigation systems require screen filters while high pressure systems require disc filters.
The cleaning schedule you want – choose a bigger filter to reduce the number of cleaning frequency.
How do I Correctly Install Water Filters?
Start by installing a pressure tank.
Install a pump in case your irrigation system requires a pump.
Install your water filter. The filter will rely on the pressure generated by the pump to trap the particles in water.
Is there any effect of Water Filters on Water pressure?
Good water filters do not affect water pressure when maintained well (that is when kept half filled with filtered particles).
However, water filters can lower the pressure of water in your irrigation system when filled with dirt particles. You should check and clean your filters frequently to ensure it does not slow down your pressure requirements.
Advantages of Our Filters
They are made of new and long-lasting Polyvinyl chloride plastics.
Our filters are resistant to rust and corrosion.
Our filters are easy to install and use.
They are flexible and easy to use.
Water Filter Prices
25 mm water filter at KES. 800.
32 mm water filter at KES. 1000.
50 mm water filter at KES. 2,500.
60 mm water filter at KES. 3,500.
Where to Buy Quality Water Filters
Aqua Hub Kenya Ltd
We sell and deliver quality screen water filters to our customers at affordable prices.
Reach us on telephone through 0790719020 or contact us via email info@aquahubkenya.co.ke