Agricultural shades nets in Kenya from Aqua Hub Kenya are quality knitted materials to apply on your tree nurseries and seedlings.
We deal in shade nets made of high-density polyethylene materials (HDPE). Our HDPE shade net fabrics have better aeration and operate effectively for a long time.
Types of Shade Nets
HDPE shade nets
Shade nets that are made of HDPE materials with different levels of air and sunlight filtration. HDPE Shade nets are UV resistant since they are made of natural anti- UV materials.
Plastic (Canvas Shade Nets)
Shade nets consist of polyester material. They are waterproof and fully airtight. Canvas shade nets only allow light to penetrate but filter 100 % UV radiation.
HDPE shade nets is the main shade net material that is highly in demand for agricultural uses in nursery and crop growing.
HDPE shade nets take two forms: knitted or Woven nets.
Knitted Agricultural Shade net
Knitted shade nets are effective shading materials made by stitching together threads using a knitting machine. The threads interlink but leave a spacing or air holes in between them.
The shape of the air holes also depends on the type of knitting used.
Knitted fabrics have a rigid texture, high tensile strength, and maximum stretch.
They are good for use in agricultural purposes, tree nurseries and greenhouse use due to their maximum ventilation.
Knitted shade nets filter the sun's rays in various levels depending on the designed filtration rate. The available penetration levels are:
35 % knitted fabric – allows 65 percent sunlight to reach crops.
 55 % knitted fabric – allows 45 percent rays to penetrate.
75 % knitted fabric – Permits only 25 percent of the sun's rays to enter.
90 % knitted fabric – Only 10 percent sunlight penetrates.
Woven Shade Agricultural Net
Woven nets are fabrics made by weaving or sewing together ropes of polyethylene material to form a mesh-like net.
Threads bindings horizontally and vertically make up the surface of a fully UV resistant woven shade net.
Differences between Knitted and Woven Shade Nets
| | |
| --- | --- |
| Knitted Shade Net | Woven Shade Net |
| Light in weight | Heavy and highly dense. |
| Higher Ventilation | Lower Ventilation |
| Strong fabric | Less strong than Knitted shade net |
| Made of polyethylene material | Made of polyesters |
| Allows air and water to penetrate | Only light can penetrate |
| Different levels of sunlight penetrates. 35%, 55 %, 75 % and 90 %. | Allows limited amount sunlight can penetrate |
Which Agricultural crops are Suitable for Shade nets?
Crops grown using shade nets often require a lot of shade and are less tolerant to high sunlight intensity. Young plants, seedlings, and shallow rooted crops wilt or dry when exposed to sunlight.
Shade nets are perfect shields for sunlight especially in arid areas where a lot of  water loss occurs due to evaporation.
Applications of Agricultural Shade Nets
Useful ventilation materials in greenhouses
Prevention of water loss in outer field plants
prevention of frost and high humidity in crops
Shielding crops from plants and insects.
Propagation of seedlings and nursery crops.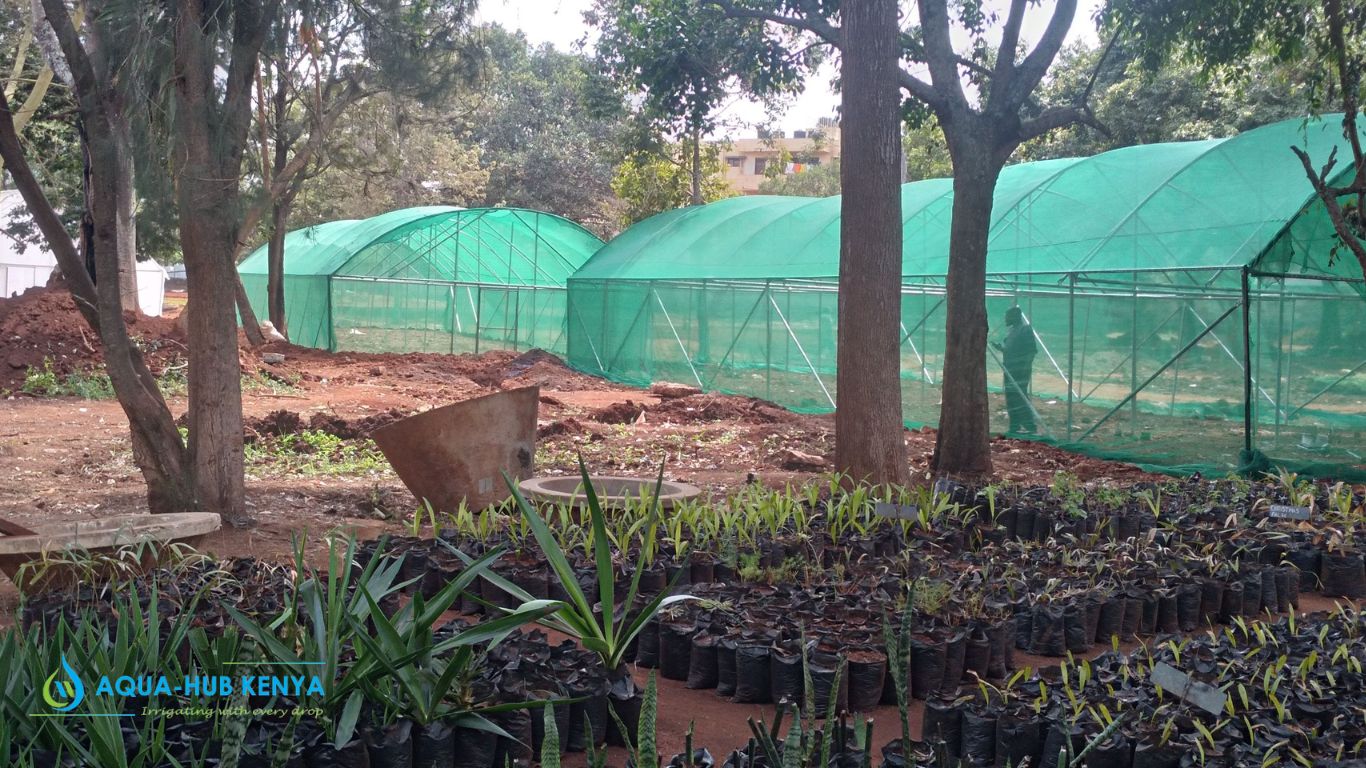 Prices of Agricultural Shade Nets in Kenya
| | |
| --- | --- |
| Shade net Percentage (%) | Cost (KES) |
| 35 | 16,000 |
| 55 | 18,000 |
| 75 | 25,000 |
| 90 | 36,000 |
Buy Quality Agricultural shade nets from Aqua Hub Kenya today at cheap rates.
Call 0790719020