Description
Solar Dryers in Kenya
Solving Food Insecurity (Solar Dryers)
Solar Dryer Structures |Food Security has been a challenge for the past decade in the country and the world at large. The United Nations in its sustainable goals places food security as a major challenge in the world currently. There are however various remedies of food shortage and insecurity that have proven effective.  Use of solar dryers is one of the best methods of drying food.
The need for Solar Dryers
No matter how clean or dry a place is, perishable foodstuffs will still go bad. Drying them is a method of preserving them to enhance availability in the future.
Perishable food such as milk, meat, fish, omena, rice, vegetables, fruits and some flowers are normally dried to preserve them.
Solar dryers are the most effective and reliable dryers. They are reliable for use all times unlike other means of open sun drying or smoking.
What is a Solar Dryer?
A solar dryer is a structure that dries food or grains by providing a hot environment for a drying effect on moist food.
Types of Solar Dryers
Hybrid Solar Dryers
Advanced solar dryers with chambers that coordinate to enhance the drying effect for moisture removal. The chambers are; Air entrance, Solar /absorber, heat exchanger medium, drying chamber and fans.
Air entrance allows air inside, the solar panels absorb heat which is transferred to the air entering in. The drying chamber contains food for drying
Natural Solar dryers
Natural dryers are made of wooden and metallic structures with a polythene greenhouse covers. The aim of the greenhouse polythene is to allow sunlight into the solar dryer structure and retain heat inside for drying food.
Building or Setting up a Solar Dryer
Setting up a dryer is an easier but a more critical process which requires more consideration. You need to consider the best site for setting up a dryer fast before proceeding to avail all the requirements.
Choice to Consider Purchasing Solar Dryers
Materials – The materials of a solar dryer will determine the choice of dryer. Metallic dryers are more quality and durable.
Cost – Budget will determine the solar dryer to construct. You can always choose the type and dimension of dryer that suits your budget.
Size – Depending on the size of solar dryer or space for building a dryer, you can choose the size that suits your project.
Amount of Crops – The number or level of yield dictates the type and size of dryer to purchase.
The process of setting up a Solar dryer structure includes;
Choosing a more appropriate site for construction.
Clear the site and levelize the ground.
Dig 15 cm and 50 cm deep holes 3 m apart and ensure they are in a straight line.
Erect the steel profiles to the holes and hold them to the ground using cement and gravel
Attach the arch profiles to the erected profiles using bolts and screws.
Place the polythene cover to the structure and hold it using wires or nails.
Construct shelves and fit mesh wires or nets. The shelves should take a dimension of about 2 by 8 m.
Leave a space for door entrance and ventilation.
You can attach a solar panel, battery and fan to enhance efficiency of the dryer.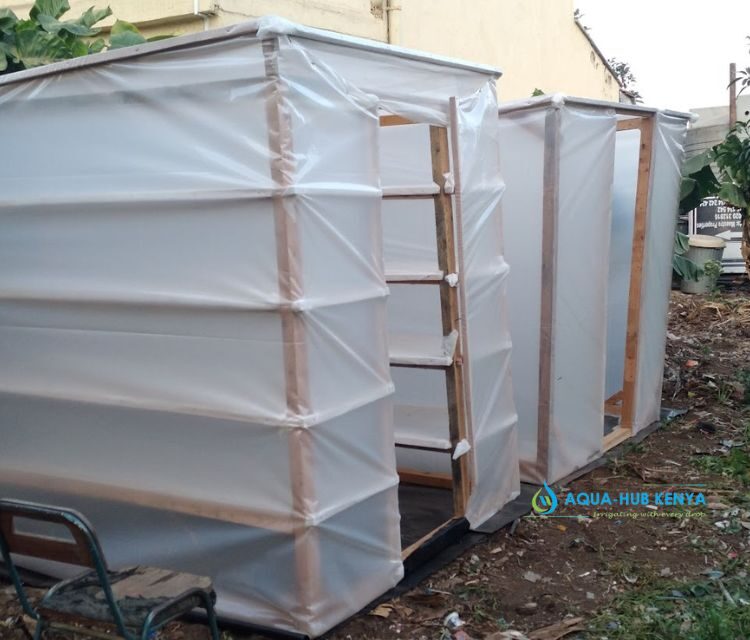 Materials for building Solar dryer structures
Steel profiles
Wires
Bolts and nuts
Fans
Mesh wires or nets for shelves
Fabricators
Features of a Solar Dryer
The structure has a ventilation that allows dry air to enter and hot moist air to leave the solar dryer.
The polythene cover material plus black ground covering materials absorbs heat from the outer environment to dry the food.
Dryers contains shelves that hold food to enhance drying of more food at a time.
Some solar dryers have fans that direct air inside.
How Solar Dryers work
Solar dryers preserve food by allowing moisture to be removed from food components. Moisture under the right temperature favours the growth of bacteria and the decay of food. Therefore, cooked food, fruits and grains should be kept in a cool, dry and clean place to ensure they remain fresh.
Advantages of Solar Dryers
Solar dryers are more efficient in drying food. They can enhance drying of more food at all times
Solar dryers are long-lasting. Solar structures consist of hard and quality materials which are durable.
Solar drying prevents re-introduction of moisture into food and grains. Solar dryers are waterproof, hence rain cannot affect food.
Solar dryers can remove moisture from food at all times of the day
Setting up dryers is affordable, you can start with a small and less costly solar dryer.
Solar dryers are suitable for construction in most type of soil. The only soil feature to consider is soil compaction and strength.
Drying food enables food security and availability in the future when shortage is experienced.
Solar dryers prevent entry of insects, germs and bacteria or animals to food stuffs
Applications of Solar Dryers
Solar dryers have a wide range of applications from common domestic use to industrial and sophisticated appliances.
Pasteurization of milk in processing plants and coolants
Drying of coffee berries in coffee processing plants.
Domestic drying of food and grains.
Sugar processing in factories to form sugar crystals.
Cost of Setting up Solar Dryer Structures
| | |
| --- | --- |
| Dimension of Dryer | Price of Dryer (KES.) |
| 2 m by 2 m by 2 m | 75,000 |
| 2 m by 3 m by 2 m | 85,000 |
| 2 m by 4 m by 2 m | 105,000 |
| 2 m by 5 m by 2 m | 125,000 |
Aqua Hub Kenya is a farming, irrigation and agribusiness innovative company for provision of better tools and research for the greater sustainability of hunger and food availability.
For quality solar dryers contact us through;
0790719020 or email; info@aquahubkenya.co.ke.