Sprinkler Prices in Kenya range from KES 150- 15,000 depending on pressure and type, suppliers and manufacturers. The brand of a sprinkler determines its valuation or cost depending on the brand quality, performance, and durability of the brand sprinklers.
Aqua Hub Kenya is the ultimate brand to visit or inquire for your sprinkler needs. Every aspect from sprinkler prices to quality, available sizes, and features are the perfect reasons you should consider buying from us. Moreover, we have discount offers for more purchases and regular customers.
What to Consider when Purchasing Sprinklers
Crop type
The overhead application of water to crops by sprinklers is not suitable for all types of crops. Since sprinkler irrigation wets the leaves, some crops such as tomato, onions, and capsicum. On the same note, specific crops have specific sprinkler pressure requirements. E.g., small crops such as vegetables are suitable for micro-sprinklers while tall crops such as sugarcane requires rain guns and impact sprinklers.
Soil Type
Some soils have higher capillarity than others. Consequently, some soils can hold water for a long time unlike other types of soils. Checking the Soil type is important to avoid erosion and soil leaching.
Water Availability
Sprinklers work under high pressure that ultimately releases high flow rates. Therefore, to use sprinklers for irrigation of your farms, you must ensure a consistent water supply. You can store water in large tanks or build dams near your farm to enhance the constant supply of water for crop irrigation.
Quality
The brand quality is important to check for enhanced durability and good operation of a sprinkler head. Always buy from trusted and most reputable companies, in which Aqua Hub is among them.
Pressure
The pressure of a sprinkler head determines whether it is suitable for your crop type or farm. It will also determine the quantity you need for your farm size.
Sizes and Features of Various Sprinkler types
There are several sprinkler types of various sizes which are sold differently according to the size of the sprinkler head, pressure of flow or material type.
Rain Gun Sprinklers are high pressure sprinklers made of brass or aluminium metals. They are available in diameter sizes are 32 mm, 50 mm, and 63 mm. They include flange, impact, and brass rain guns.
Impact Plastic sprinklers
Impact plastic sprinklers are overhead sprinklers of plastic materials. They operate under a pressure of 1.5- 5 bars and are available in inlet diameter sizes of 32 mm.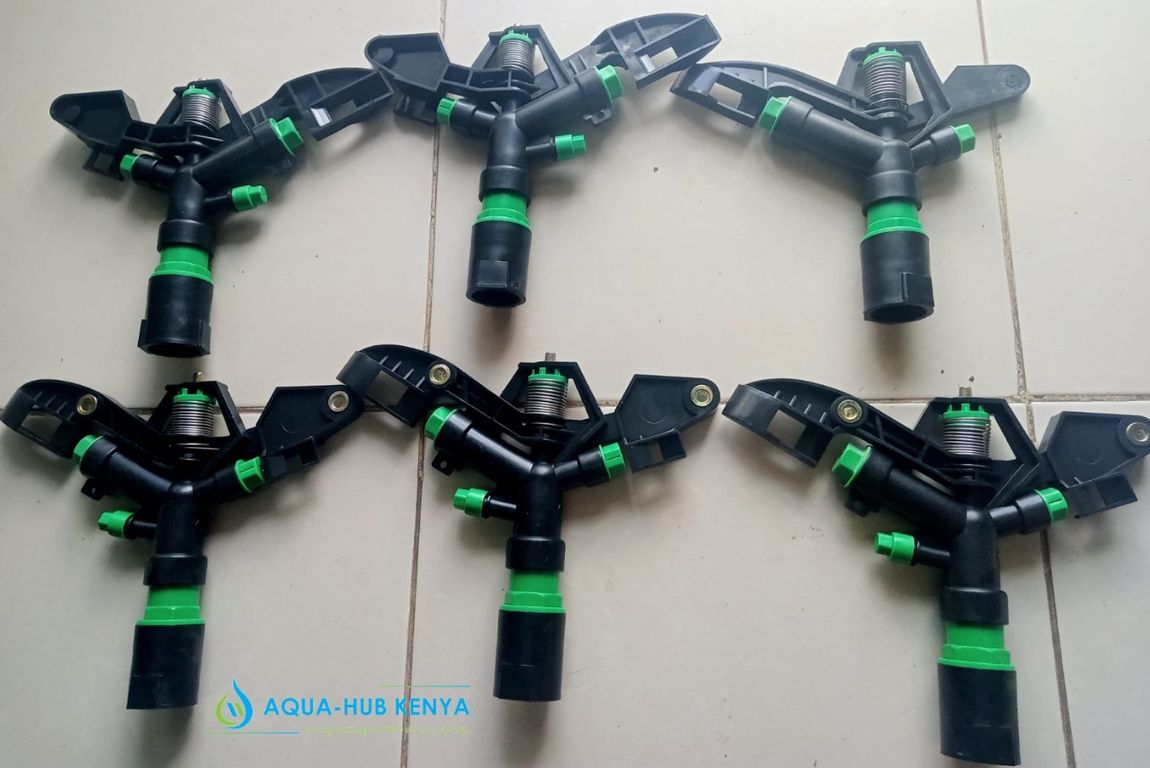 Micro-sprinklers
Low pressure or micro-sprinklers are plastic or metallic sprinkles that operate under low pressure to produce smooth sprays of water. They work best in gardens, greenhouses, fields and shade houses for small crops and pot plants. The available sizes are normally ½ inches or 16 mm inlet diameter. Butterfly, sprinklers are the common micro-sprinklers available, with a 360° rotary plastic jet.
Lawn sprinklers
Lawn or pop-up Sprinklers are other sprinkler types normally suitable for lawns, parks and football or golf courses. Pop-up lawn sprinkler heads pop out to release water to grasses under high pressure and retract back to the ground once irrigation is done. The heads consist of hard plastic material and a spring combination that enhances the popping and retraction mechanism. Again, pop-up sprinklers are available in various sizes and inlet diameter sizes.
Sprinkler Prices in Kenya by Aqua Hub
Below are the current Sprinkler price in Kenya by Aqua Hub.
Type
Size (inch/mm)
Cost (KES)
Impact sprinkler
¾"
450
1″
1,000
Pop-up Sprinkler
½"
2,900
¾"
4,200

Rain Guns

32 mm Rain Gun
5,000
50 mm Rain Gun
8,000
63 mm Rain Gun
15,000
Butterfly sprinkler
½"
150
Lawn Sprinklers
¾"
3,500
Call 0790719020 for Orders and inquiries.