Description
Why Saddle Clamp Connectors
Saddle Clamps provide a tight waterproof and zero leakage connection in PVC and HDPE pipes and joints.
Clamps are a more efficient way to join two pipes in branch or junction connection to prevent water loss or pipes detaching from a joint.
They apply to most water supply systems in both industrial and domestic places.
What Features do Saddle Clamps have?
Plastic saddle clamps with bolts and nuts are the best fastening apparatus in nearly all irrigation systems installation especially drip kits.
Normally, they consist of polypropylene polymer material which enhances it to be light and efficient for holding pipes together. Its ability to resist harsh sunlight and extremely cold weather makes it a long-lasting fitting that reduce maintenance costs.
Propylene material cannot burst easily, they are light but less prone to expansion and contraction during alternating hot and cold periods.
How to Connect Pipes using Saddle Clamps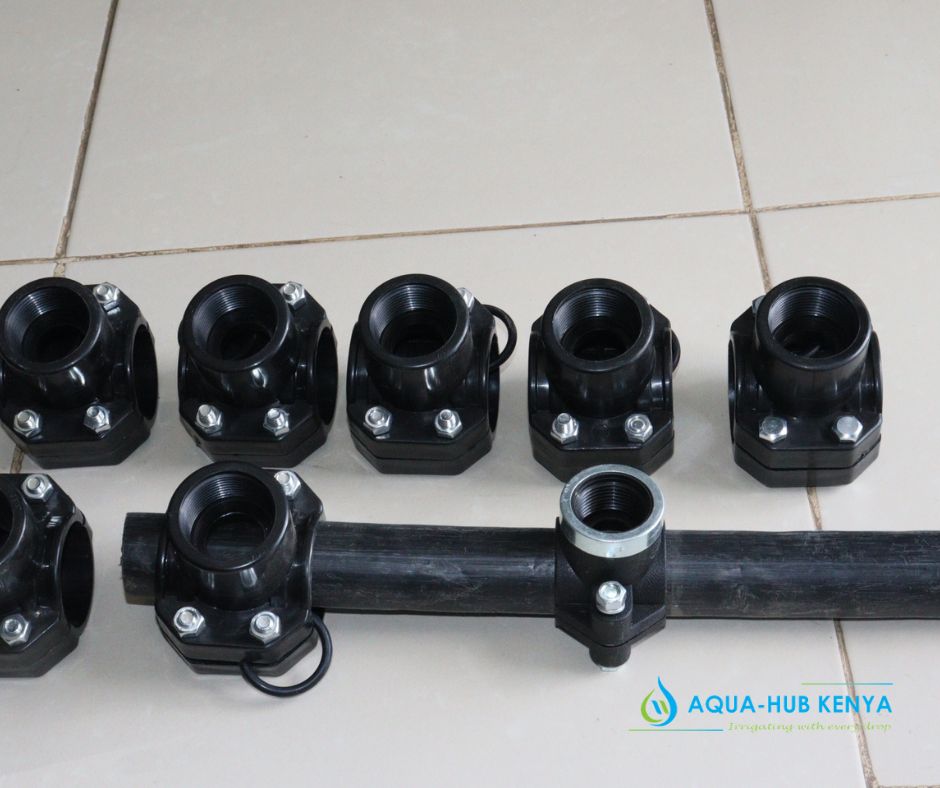 Lay HDPE or PVC pipes on the ground
Identify the centre or joining point.
Makes a hole on the centre of the pipe. Should be equal to the branching sub mainline pipe.
Attach the saddle clamp pair and place the side that receives the pipe exactly on the hole surface.
Fasten the nuts tightly to hold the clamp onto the pipe tightly using a spanner.
Fix a pipe adapter fitting to the threaded receiving end of the saddle clamp.
Saddle Clamps Applications
Saddle Clamps are the main joining fittings in water supply pipes.
They are used in industries to hold pipes together in pipes that distribute fluid such as oil, petrol, water and molasses or pulp.
Plastic clamps fasten irrigation pipes more efficiently, for essence drip irrigation kits and sprinkler connections.
For domestic tank to kitchen or plumbing connections, saddle clamping fittings are best.
Sewage pipe connection systems also requires saddle clamps because leakage since any sewage leakages can result in a lot of health and environmental hazards.
Metal Clamps connect pipes which carry corrosive fluids i.e. steam, gases, hot water, chlorides, hydrogen and detergents.
They are not reactive when water flows through them.
Plastic propylene needs a very high temperature to melt, hence not a problem since such temperature cannot be met inside or outside a room.
Clamps Offers a Perfect Connection
Plastic clamps are cheap and offers a longer pipe connectivity.
They can be installed with ease and fewer skills because they are common pipe fittings with no complex operational mechanisms.
Saddle Clamps and Irrigation Systems installation services
Due to their excellent role in water connections, we install our drip kits with ease by applying clamps in pipe to pipe connection for our farmers.
Therefore, you need to consider our strong clamps and fittings for domestic and irrigation pipe connections.
Where to Buy Saddle Clamps
You can get Saddle Clamps at our shops in Nairobi or Eldoret at cheap cost.
Call 0790719020 or email info@aquahubkenya.co.ke.